A large pine tree fell through the roof of the Rowan Family house wrecking havoc on their lives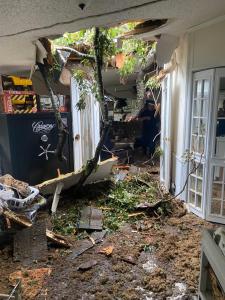 Massive interior damage to the Rowan Family house
The family is asking for donations to help assist in replacing home goods, baby items, and funds for transportation
Just one week after welcoming a newborn, the Rowan family's South Georgia home was a total loss due to a fallen tree during the devastating category 3 hurricane
By coming together to show the Rowans and other families in their position that they're not alone, we can become the beacon of hope that changes the lives of Idalia's victims for the better…"
— Alex Kantor
TALLAHASSEE, FLORIDA, UNITED STATES, September 5, 2023/EINPresswire.com/ — Family-owned online nursery Perfect Plants is raising awareness of the devastation facing families in the wake of Hurricane Idalia, which destroyed the home and vehicles of the Rowan family in South Georgia just one week after they welcomed a newborn baby. Perfect Plants co-owner Alex Kantor, also Ciera Rowan's brother-in-law and uncle to the family's three children, recently helped organize an emergency GoFundMe campaign to raise $35,000 to cover home repairs, new infant items, transportation, medical expenses, and other critical items needed to recover from the Category 3 storm.
When Hurricane Idalia swept through the Rowan's hometown of Valdosta, Georgia, strong winds knocked a tree directly into their home. The fallen tree struck the living room, one of their three children's bedrooms, the baby's nursery, and both of the family's vehicles. In addition to the physical destruction of the family home, the loss of Mr. Rowan's truck prevents him from operating his small business, which is critical to putting food on the table.
"Bringing a new baby into the world is a vulnerable time for any family, making Idalia's destruction even more devastating for the Rowans, who are also unable to operate their small business while recovering from the hurricane," said Perfect Plants co-owner Alex Kantor. "We are so thankful for all of the community support so far – donations big and small are so appreciated and go a long way into helping this young family get back on their feet."
All donations collected from the GoFundMe page will go directly to the Rowan family to immediately pay for home repairs, lost belongings, living expenses, medical treatments, and transportation.
"Communities across the South are processing devastating losses of every shape and size, making each piece of support all the more impactful," continued Kantor. "By coming together to show the Rowans and other families in their position that they're not alone, we can become the beacon of hope that changes the lives of Idalia's victims for the better, one donation and share at a time."
Click here to learn more about the GoFundMe Campaign 'Rebuilding Hope for the Rowan Family.'
Donations of any scope are deeply appreciated. If possible, the Kantors and the Perfect Plants team ask donors to share the page with friends, family, churches, and community groups to spread awareness and drive support for the Rowans and their three young children.
Rose Kantor
Perfect Plants Nursery
+1 850-997-3008
[email protected]
Visit us on social media:
Facebook
Instagram
YouTube
LinkedIn
TikTok
A walk through of the Rowan Family house after the category 3 Hurricane Idalia destroyed their home


Originally published at https://www.einpresswire.com/article/653748857/after-georgia-family-loses-home-to-hurricane-idalia-local-nursery-rebuilds-hope-for-recovery-with-gofundme-campaign
Images courtesy of https://pixabay.com