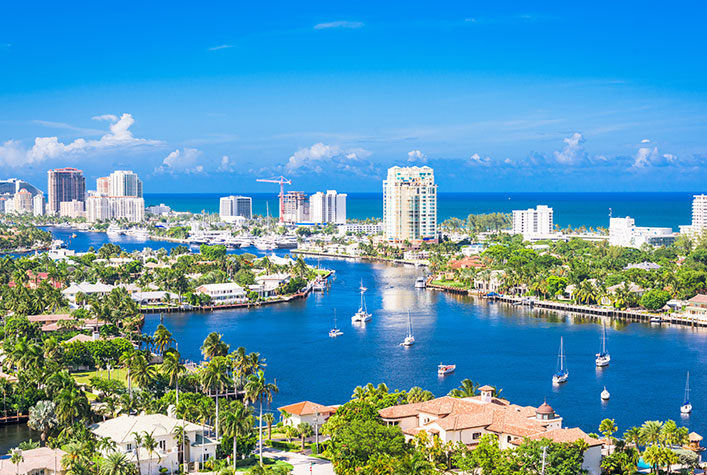 MIAMI — Broward County $1 million+ luxury home sales continued outperforming pre-pandemic levels as total median sale prices rose once again as national prices decreased, according to April 2023 statistics released by the MIAMI Association of Realtors (MIAMI) and the Multiple Listing Service (MLS) system.
Broward $1M+ home sales are up 192.9% in April 2023 vs. pre-pandemic April 2019, 70 transactions to 205. The rise continues Broward's historic luxury sales boom. About 49% of all Broward luxury sales have happened since March 2020, the start of the pandemic.
"Homebuyers from high-taxed, high-density states continue relocating and buying Fort Lauderdale real estate," BROWARD-MIAMI President Alfredo Pujol said.
Florida ranked No. 1 in the U.S. in largest net gain of adjusted gross income (AGI) due to domestic migration, gaining $23.7 billion, according to most recent IRS-SOI migration data.
Palm Beach/Broward rank No. 7 in super-prime real estate sales ($10M+) and No. 6 in ultra-prime ($25M+) transactions in the world, according to the 2023 Knight Frank Wealth Report.
Mortgage Rates Up 3 Percentage Points Vs. Last Year; Impacting Sales
Broward total home sales decreased 31.4% year-over-year in April 2023, from a historic 3,489 transactions in April 2022 to 2,393 in April 2023, because of rising mortgage rates, the recent banking crisis and lack of supply in certain price points.
Most of the homes purchased in April 2023 came to terms in March when mortgage rates started at 6.71% before hitting 7.03% on March 7, 2023. Rates leveled off before recently rising again. Rates on March 1, 2022 were 3.90%.
Home sales are sensitive to mortgage rate changes. According to Freddie Mac, the 30-year fixed-rate mortgage averaged 6.35% as of May 11. That's down from 6.39% the previous week but up from 5.30% one year ago.
"Rising mortgage rates and the banking distress in March tripped up April's home sales," MIAMI REALTORS® Chief Economist Gay Cororaton said. "But with inflation on the wane, I expect mortgage rates move towards 5.5% by year-end which will revive the housing rally we saw in the first quarter."
Broward single-family home sales decreased 28.3% year-over-year, from 1,509 in April 2022 to 1,082 in April 2023 because of its comparison to a historic month and the current market has lower inventory in specific price points and higher rates.
Broward existing condo sales decreased 33.8% year-over-year, from a historic 1,980 in April 2022 to 1,311 in April 2023, due to lack of inventory and rising mortgage rates.
Broward Home Prices, Household Income Rise with Wealth Migration
Broward County single-family home median prices increased 2.7% year-over-year in April 2023, increasing from $560,000 to $575,000. Existing condo median prices increased 10.2% year-over-year, from $245,000 to $270,000.
Home prices are determined by supply and demand. Lower supply and higher demand create higher prices. Inventory for Broward single-family homes (2.5 months) and condos (3.3 months) are low. Also, one of the supports for home prices is rents and rents are up.
Broward Inventory, New Listings Near All-Time Lows
Total active listings at the end of April increased 70.8% year-over-year, from 4,142 to 7,073.
Inventory of single-family homes increased 53.9% year-over-year in April 2023 from 1,765 active listings last year to 2,717 last month. Condominium inventory increased 83.3% year-over-year to 4,356 from 2,377 listings during the same period in 2022.
New listings of Broward single-family homes decreased 26% to 1,344 from 1,816 year-over-year. New listings of condominiums decreased 7.4%, from 1,924 to 1,781 year-over-year.
Months' supply of inventory for single-family homes increased 108.3% to 2.5 months year-over-year, which indicates a seller's market. Inventory for existing condominiums increased 153.8% to 3.3 months, which also indicates a seller's market. A balanced market between buyers and sellers offers between six- and nine-months supply.
Nationally, total housing inventory at the end of April was 1.04 million units, up 7.2% from March and 1.0% from one year ago (1.03 million). Unsold inventory sits at a 2.9-month supply at the current sales pace, up from 2.6 months in March and 2.2 months in April 2022.
Broward Real Estate Posts $291.9 Million Local Economic Impact in April 2023
Every time a home is sold it impacts the economy: income generated from real estate industries (commissions, fees and moving expenses), expenditures related to home purchase (furniture and remodeling expenses), multiplier of housing related expenditures (income earned as a result of a home sale is re-circulated into the economy) and new construction (additional home sales induce added home production).
The total economic impact of a typical Florida home sale is $122,000, according to NAR. Broward sold 2,393 homes in April 2023 and had a local economic impact of $291.9 million.
Broward total dollar volume totaled $1.3 billion in April 2023. Single-family home dollar volume decreased 32.36% year-over-year to $793 million. Condo dollar volume decreased 30.16% year-over-year to $476 million.
Broward Distressed Sales Remain Low, Reflecting Healthy Market
Only 0.9% of all closed residential sales in Broward were distressed last month, including REO (bank-owned properties) and short sales, lower than 1.2% in April 2022.
Short sales and REOs accounted for 0.1% and 0.8% year-over-year, respectively, of total Broward sales in April 2023.
Broward's percentage of distressed sales are on par with the national figure. Nationally, distressed sales represented 1% of sales in April, unchanged from last month and the prior year.
Broward Median Price Appreciation Outperforming Nation, State
In Florida, closed sales of single-family homes statewide totaled 23,334 in April 2023, down 17.2% year-over-year, while existing condo-townhouse sales totaled 10,040, down 26.8%. Closed sales may occur from 30- to 90-plus days after sales contracts are written.
Nationally, total existing-home sales transactions slid 3.4% from March to a seasonally adjusted annual rate of 4.28 million in April. Year-over-year, sales slumped 23.2% (down from 5.57 million in April 2022).
The statewide median sales price for single-family existing homes was $400,000, even from the previous year, according to data from Florida Realtors Research Department in partnership with local Realtor boards/associations. Last month's statewide median price for condo-townhouse units was $325,000, up 4.8% over the year-ago figure. The median is the midpoint; half the homes sold for more, half for less.
Nationally, the median existing-home price for housing types in April was $388,800, a decline of 1.7% from April 2022 ($395,500). Prices rose in the Northeast and Midwest but retreated in the South and West.
Broward Real Estate Attracting Near List Price
The median percent of original list price received for single-family homes was 96.7% in April 2023, down from 100% last year. The median percent of original list price received for existing condominiums was 96.1%, down from 100% last year.
The median number of days between listing and contract dates for Broward single-family home sales was 27 days, up from 12 days last year. The median time to sale for single-family homes was 67 days, up from 50 days last year.
The median number of days between the listing date and contract date for condos was 27 days, up from 13 days. The median number of days to sale for condos was 68 days, down from 56 days.
Broward Cash Sales 51.4% More than National Figure
Cash sales represented 42.4% of Broward closed sales in April 2023, compared to 45.8% in April 2022. About 28% of U.S. home sales are made in cash, according to the latest NAR statistics.
Cash buyers are not deterred by rising rates. The high percentage of cash buyers reflects South Florida's top position as the preeminent American real estate market for foreign buyers, who tend to purchase with all cash as well as some moving from more expensive U.S. markets who can buy more with their profits from real estate sales.
Cash sales accounted for 57.9% of all Broward existing condo sales and 23.6% of single-family transactions.
To access April 2023 Broward Statistical Reports, visit http://www.SFMarketIntel.com
Note: Statistics in this news release may vary depending on reporting dates. MIAMI reports exact statistics directly from its MLS system.
About the MIAMI Association of Realtors®
The MIAMI Association of Realtors (MIAMI) was chartered by the National Association of Realtors in 1920 and is celebrating 103 years of service to Realtors, the buying and selling public, and the communities in South Florida. Comprised of six organizations: MIAMI RESIDENTIAL, MIAMI COMMERCIAL; BROWARD-MIAMI, a division of MIAMI Realtors; JTHS-MIAMI, a division of MIAMI Realtors in the Jupiter-Tequesta-Hobe Sound area; MIAMI YPN, our Young Professionals Network Council; and the award-winning MIAMI Global Council. MIAMI REALTORS represents nearly 60,000 total real estate professionals in all aspects of real estate sales, marketing, and brokerage. It is the largest local Realtor association in the U.S. and has official partnerships with 246 international organizations worldwide. MIAMI has been selected to host the prestigious FIABCI World Congress on June 5-9, 2023. MIAMI's official website is www.MiamiRealtors.com
###
Originally published at https://www.miamirealtors.com/2023/05/18/broward-county-luxury-sales-top-pre-pandemic-levels/