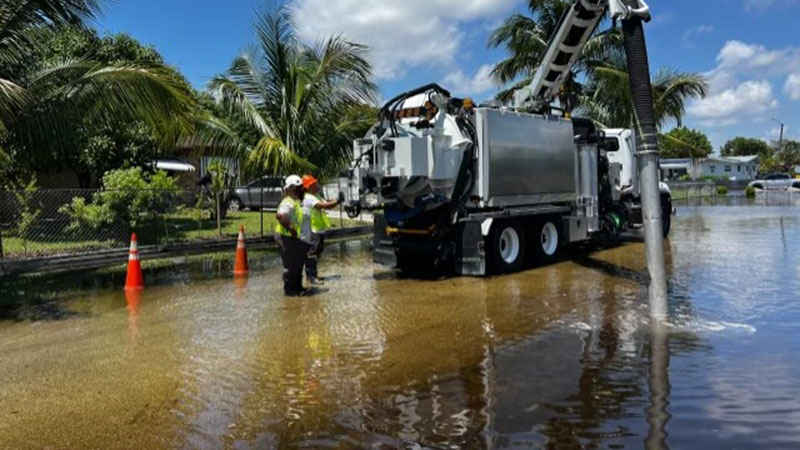 Miami-Dade Water and Sewer Department (WASD) stands ready to assist neighboring utilities in need. Following the recent historic rainfalls in South Florida, WASD deployed essential personnel and equipment from its Wastewater Collections and Wastewater Treatment Divisions to the City of Fort Lauderdale to assist with recovery and clean-up efforts. During the two-day operation, 12 staff members and six vactor trucks successfully recovered more than 120,000 gallons of standing water from low-lying areas, helping alleviate flooding from this major rain event and helping the city resume normal operations.
"Miami-Dade County works hard to prioritize resilience at all levels and we are committed to doing everything possible to prevent flooding and keep our community safe," said Miami-Dade County Mayor Daniella Levine Cava. "That's why our County teams are always ready to deploy crews to assist where needed, whether within our own community or to neighboring counties."
The Department also had the opportunity to assist the City of Hollywood's Public Utilities Department when they were recently running low on liquid oxygen, which is essential for the biological treatment of wastewater. WASD was able to provide approximately 80 tons of liquid oxygen from our cryogenic plant storage tanks at the South District and North District Wastewater Treatment Plants.
"In order to support public health during critical times, having the essential personnel, equipment and supplies available is imperative," said WASD Director Roy Coley. "We were fortunate to have sufficient liquid oxygen stored to provide the City of Hollywood with the necessary relief. Our continued efforts to future proof our facilities and infrastructure not only ensure uninterrupted service delivery to our 2.4 million customers, but also allow us the opportunity to help our neighbors when necessar
Originally published at https://www.miamidade.gov/global/news-item.page?Mduid_news=news1683753819059920