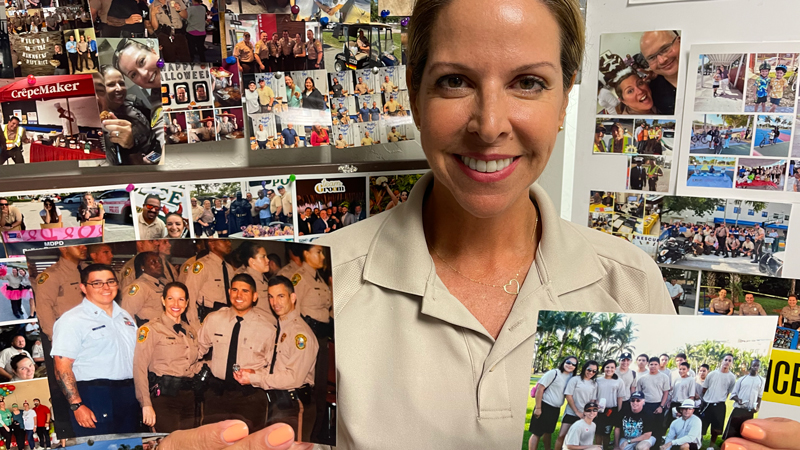 Tucked inside Officer Arlene Jimenez's desk drawer is a folder stuffed with snapshots, some Polaroids, of the hundreds of young men and women she has supervised over the past 20 years at the Hammocks District, as part of the Miami-Dade Police Department Explorer Program. Mixed in with the photos are letters from former cadets, thanking her for the time she took to mentor them, and giving her updates on milestones in their lives, like births, marriage, and new jobs.
Many of her former cadets work in the criminal justice field, including within the FBI, DEA and other federal agencies, or as crime analysts, attorneys and probation officers, and some serve in the military. The Department counts dozens of former Explorers in its ranks.
Twenty years ago, Officer Jimenez was on road patrol, working midnights in the Hammocks District, when the position of Police Explorer Program Advisor opened up. She applied and got the job. Advisors are selected based primarily on their interpersonal skills, and work out of their district's Neighborhood Resource Unit. Eight districts have an Explorer post; Intracoastal, Northside, Northwest, Midwest, Hammocks, Kendall, South, and the Town of Miami Lakes. The program is year-round, and includes a summer academy that is modeled after the Department's police academy, weekly meetings, and the South Florida Explorer Competition, a three-day event held during spring break, between Explorer posts throughout Monroe, Miami-Dade, and Broward Counties.
As she leafed through the photos recently, Officer Jimenez beamed with pride at the achievements of many of her former cadets, including one who was awarded "2022 Officer of the Year" by the South Florida Police Benevolent Association. Doral Police Department Officer Daniel Vilarchao had only been on the job for six months when he helped subdue an armed subject on October 21, 2021, likely preventing innocent civilians from being harmed. Officer Vilarchao sustained facial injuries from one of the rounds fired by the subject, but he made a full recovery.
Officer Jimenez recently ran into another former cadet who is an attorney in the Kendall area. He is married and has two children, and invited Officer Jimenez to his house to meet his family. He told her that his time as a cadet helped shape him as an adult. "It's rewarding to hear that, to know that I was a positive influence in his life," Officer Jimenez said.
Officer Rosmel Hurtado, who is a co-advisor with Officer Jimenez at the Hammocks District, said, "She has a special way with the cadets, and I've learned patience and discipline from her. The kids call her Momma Arlene. We really care about the kids, treat them like they're our own, because we want them to be something, to have success."
At the Hammocks District, there are seven officers who were cadets there. Officer Gerardo Perez III was an Explorer from 2005 through 2011. When he was 18, he was contemplating asking his girlfriend to marry him. He even carried around an engagement ring. After a weekly Explorer meeting at the Hammocks District, he asked Officer Jimenez for her opinion, and she spoke privately with him. Officer Perez eventually decided to hold off from getting married at such a young age.
"I've known her since I was 14," Officer Perez said. "She has always been there for me, she is like a second mom." He said his time as an Explorer convinced him to become a police officer. "It was a great experience, I got to see what police officers go through."
Officer Sabrina Toledo, assigned to the Neighborhood Resource Unit at the Midwest District, has also been a Police Explorer Advisor for two decades. In 2017, she received the William H. Spurgeon III Award, given out by Learning For Life, an organization created by the Boy Scouts of America to oversee the Explorer Program. The award is the highest national recognition in leadership in the Explorer Program. Officer Toledo is one of only five Explorer advisors in South Florida to ever win the award.
Many of her former cadets are also officers within the Department, and occasionally stop her to thank her. "It's been a great experience, and proof that what I've done over the years has had a positive effect."
One of her former students, Medley Police Officer Oman Galban, was awarded his department's "2022 Officer of the Year," after receiving a lifesaving award, and a commendation for catching a felony suspect. In accepting the award, he thanked "everyone that has mentored me along the way." Officer Galban went through the Explorer Program at Midwest District in 2014.
Medley Police Department Lieutenant Arturo Jinet, who works closely with Officer Toledo on the annual competition between Explorer posts in South Florida, said "she is a shining example of an officer who invests in youth and has a positive influence on their lives. She has definitely been like a mother to many of the cadets, taking them to Marlins games, giving them rides when they are in a pinch. The work she puts in for those kids is incredible, she truly helps them prepare for adulthood."
Lieutenant Jinet is the chairperson for the annual competition, but said that Officer Toledo "is the brains of the actual competition." The event includes scenarios such as traffic stops, Baker Act procedure, and crime scene evaluation, and the cadets are judged based on their performance. As many as 20 Explorer posts from throughout South Florida participate.
The Department's Explorer Program is a way for high school students to fulfill their community service requirement necessary to graduate. Candidates must be between the ages of 14 and 17 to enroll and the age limit is 20. The cadets wear uniforms at all functions, and are assigned rank.
The academy is physically challenging with lots of calisthenics, and the cadets are constantly quizzed on radio codes and law enforcement regulations. Training exercises include building searches and responding to mock domestic situations. They also do team-building exercises, help the Department at weekend events such as food drives, and assist Miami-Dade County Commissioners at their respective events. Explorers also go on leisurely, fun outings, like to Universal Studios, pizza nights, and canoeing, perks that are hard earned.
"Not every high school student is willing to wake up early during the summer break to do calisthenics and stand at attention while instructors shout at them," Officer Hurtado said.
"It's interesting, you think they would tone it down at the academy so they don't scare them away, because they're juveniles and it's their summer vacation, and you would think it's the last thing they want to do, to get yelled at or told to run. But the kids push each other, and they don't quit."
Diane Hickman, the Director for Learning For Life and Exploring, South Florida Council, Boy Scouts of America, said that the Miami-Dade Police Department Explorer Program is among the best in South Florida, because of advisors like Officers Jimenez and Toledo.
"The Explorer Program needs a powerful presence of role models, and the Miami-Dade Police Department has just that," Ms. Hickman said. "You have some amazingly powerful women in the Department, strong women who are great role models, who teach the young women in the program that it is OK to be strong, to be proud of who you are."
Ms. Hickman oversees approximately 60 Explorer posts throughout the South Florida region. She said Officer Toledo has been indispensable in helping her throughout her time as Director, since 2007. Officer Toledo helped organize the first ever annual competition in 2008, and has been a presence at every one since.
"I've seen many faces come and go over the years, but she's the only one who has been there since the beginning," Ms. Hickman said.
For additional details on the Miami-Dade Police Explorer Program, including contact information, please visit: https://www.miamidade.gov/police/library/explorer-brochure.pdf
Originally published at https://www.miamidade.gov/global/news-item.page?Mduid_news=news1691125395550994