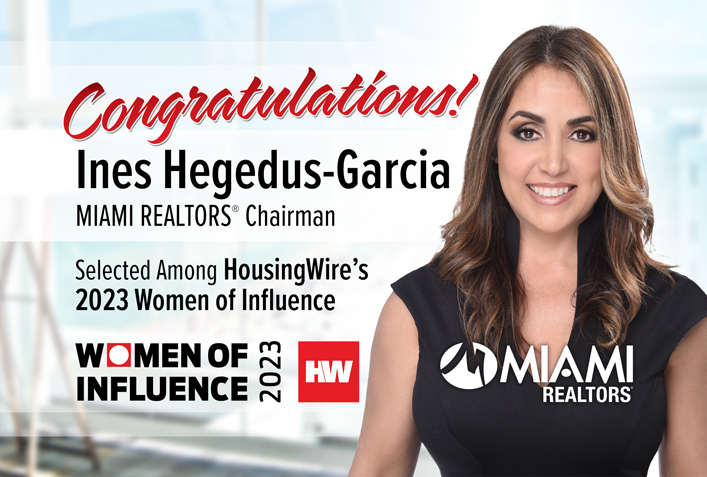 MIAMI — MIAMI Association of Realtors (MIAMI) Chairman of the Board Ines Hegedus-Garcia has earned one of housing's highest awards as she was selected among HousingWire's 2023 Women of Influence, a prestigious list of national leaders who are propelling the housing economy forward with their impressive list of achievements.
"Receiving this esteemed recognition as one of HousingWire's 2023 Women of Influence is a testament to the dedication and impact of women in the real estate industry," Hegedus-Garcia said. "I am honored to be among such inspiring leaders who are driving positive change and advancing the housing economy. I share this award with all the dedicated professionals at MIAMI Association of Realtors who work tirelessly to propel the housing economy forward and create positive impacts in our community."
HousingWire is the most influential source of news and information for the U.S. mortgage and housing markets. It reaches more than 125,000 newsletter subscribers daily, one million unique visitors each month and has more than 6,000 members and event attendees. 2023 marks the 14th year of this award being recognized, with nominations growing and becoming more competitive every year.
Only 100 winners were selected. The Women of Influence are selected by HousingWire's Selection Committee based on their professional achievements within their organizations, but contributions to the overall industry, community outreach, client impact and personal success also factor into the decision.
Hegedus-Garcia is featured in the August/September issue of HousingWire Magazine and on its website: https://www.housingwire.com/winner-profile/2023-woman-of-influence-ines-hegedus-garcia/
"HousingWire's Women of Influence award is one of the housing industry's most prestigious honors, recognizing the most powerful and transformative leaders in the housing economy," said Clayton Collins, CEO of HW Media. "HousingWire is proud to recognize such a distinguished group of female executives whose commitment to excellence and leadership is helping redefine what success looks like in housing."
Hegedus-Garcia: Trailblazer, Leader, and Global Speaker on Realtor Tech Adoption
Hegedus-Garcia is at the forefront of the property technology industry due to her nearly two decades of industry leadership and hands-on approach to technology adoption. She was one of the first Realtors to adopt social media and still writes her award-winning real estate blog, Miamism.com, which she began in 2006.
Through her many speaking engagements all over the world and her 2023 MIAMI and national leadership roles, she has influenced thousands of Realtors in her industry to use new media and data to further their business.
Hegedus-Garcia is the Executive VP for Avanti Way Realty, an award-winning brokerage business that has expanded from 300 to 1,500 agents in the last year and recently opened its 13th office. In April 2023, she was influential in Avanti Way launching a commercial brokerage. Avanti Way Commercial aims to offer commercial real estate services throughout Florida.
She is the 2023 Chair of National Association of Realtors (NAR) Federal Technology Committee, whose role is to investigate, analyze, develop, and recommend NAR policy on new and emerging federal technology and telecommunications issues and trends affecting real estate at a national level.
Hegedus-Garcia also sits on the board of directors of Second Century Ventures, NAR's Capital Venture Arm who also oversees NAR REACH's technology incubator program as well as new artificial intelligence and virtual reality initiatives in real estate and more. She is also the 2023 Vice-Chair of the Board Leadership Forum for Florida REALTORS.
She is the 2023 chairman of the MIAMI Association of Realtors, the largest local Realtor group in the U.S. and the second largest in the world with 60,000 total members. Hegedus-Garcia leads a group of 110 leaders in the highest leadership roles covering six leadership boards.
About the MIAMI Association of Realtors®
The MIAMI Association of Realtors (MIAMI) was chartered by the National Association of Realtors in 1920 and is celebrating 103 years of service to Realtors, the buying and selling public, and the communities in South Florida. Comprised of six organizations: MIAMI RESIDENTIAL, MIAMI COMMERCIAL; BROWARD-MIAMI, a division of MIAMI Realtors; JTHS-MIAMI, a division of MIAMI Realtors in the Jupiter-Tequesta-Hobe Sound area; MIAMI YPN, our Young Professionals Network Council; and the award-winning MIAMI Global Council. MIAMI REALTORS represents nearly 60,000 total real estate professionals in all aspects of real estate sales, marketing, and brokerage. It is the largest local Realtor association in the U.S. and has official partnerships with 255 international organizations worldwide. MIAMI's official website is www.miamirealtors.com
###
Originally published at https://www.miamirealtors.com/2023/08/01/miami-chairman-of-the-board-ines-hegedus-garcia-named-among-housingwires-2023-women-of-influence/