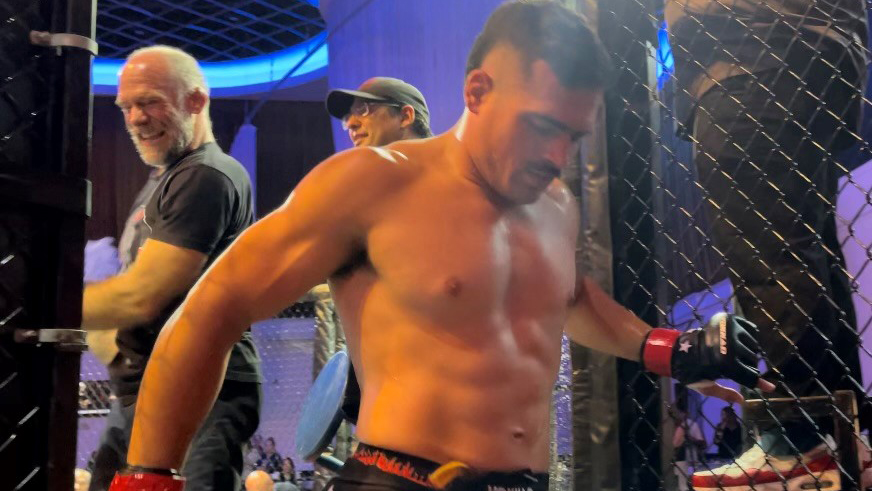 In his five-fight amateur career and two professional bouts, MMA fighter Luis Hernandez Jr. has been a relentless force, pouncing on his opponents like a spider would upon a fly entangled in its web, winning by submission or knockout early in his matches. His third pro fight was the quickest. It took him all of one second to land a thunderous roundhouse kick to the side of his opponent's head, knocking him out before he landed on the octagon floor, the fastest knockout in professional MMA history.
As knockouts go, this one, at the Gulfstream Park in Hallandale Beach, on April 21, 2023, was full of flair and will likely make many highlight reels. The KO put the crowd into a frenzy, and among those cheering were approximately 60 Miami-Dade Police Department Officers in attendance to support the victorious fighter, a police officer with the Department, working out of the Midwest District in Doral.
Nicknamed "The Stache" for his chevron-style mustache, Officer Hernandez basked in the adulation, climbing to the top of the cage to recognize his supporters. And then, he turned his attention to his opponent, checking on him to ensure he was okay. In his post-fight interview, he acknowledged his opponent and his supporters. As tenacious as Officer Hernandez is inside the cage, he is equally as polite and courteous outside of it. His career as a fighter has largely gone unnoticed by many of his coworkers, but that will likely change now.
He is a patrol officer and said he has never had to rely on his MMA abilities on calls. Through talking and reasoning, he has been able to quell the instances that could have turned physical, he said.
"I treat individuals with respect, and that's what you get in return," he said. "For me, that's the way I grew up, it was something that I learned from my father, he always emphasized that," Officer Hernandez said.
His father, Luis Hernandez Sr., is also a police officer with the Department. He has been active in his son's career and supports his dream to continue to the next level.
"It's definitely a positive that he's representing the Department in the right way, we're a tight family," said Officer Hernandez Sr. "I'm an officer too, and I'm super proud to see him grow with the Department and represent it in a way that law enforcement should be represented." He said his son told him in the days leading up to the fight that he would win with a head kick knockout. "Yes, he did exactly what he said he would do, in the first round, but I didn't think it would be that quick," Officer Hernandez Sr. said.
Officer Hernandez Jr. would like to have concurrent careers as an MMA fighter and police officer, just like some of his idols have done in the Ultimate Fighting Championship (UFC) organization, the parent company of TitanFC, which he signed a four-fight contract with. His first goal is to be middleweight champion, at 185 pounds, in TitanFC, and from there, he wants to drop in weight class, down to 170. He walks around at about 210 pounds but through a meticulous and grueling regimen, has been able to cut down to a chiseled 185 for his fights.
Officer Hernandez trains out of the Freedom Fighters Mixed Martial Arts gym in Miami. His background is in wrestling and at the gym he has added Jiu-Jitsu to his skills, recently earning a brown belt. He says many consider him one-dimensional in that he wants to get his opponent to the ground, but Officer Hernandez Jr. said he takes pride in his striking ability and can be as dangerous with his standup, as evident by his latest fight.
His grappling coach at the gym, Mr. Ray Fundora, said Officer Hernandez Jr. possesses a combination of athleticism and discipline.
"When you put those two things together as he has, it's a dangerous combination," Mr. Fundora said. "There are days when he is not motivated to train, after a rough night in the field, in his line of work, he sees some pretty bad things. But he still gets up and comes to the gym and still puts in work."
Officer Hernandez Jr. also has a built-in training gym at the "Hive," located at the Miami-Dade Public Safety Training Institute & Research Center. That facility is where cadets go through the police academy, and the Hive gym is where "defensive tactics" are taught. Officer Hernandez said he would like to help teach other officers how to subdue individuals in cases when restraint is necessary safely.
Officer Hernandez's next fight is on October 13 at Gulfstream Park. His training started immediately, on the day after his dramatic win.
"I got a bunch of cops who support me, my loved ones, my girlfriend…I'm back at the gym tomorrow," he said in his post-fight interview. "I hope my opponent is good, I hope he's Ok, but this is the Stache takeover."
Originally published at https://www.miamidade.gov/global/news-item.page?Mduid_news=news1690261741947751