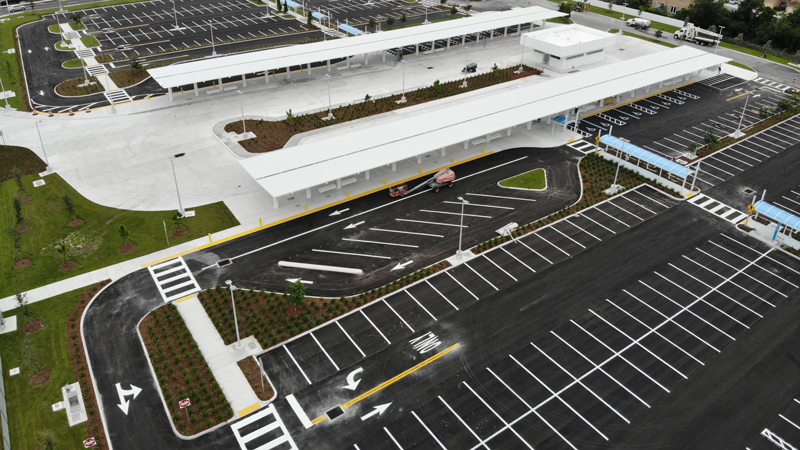 Starting on Monday, Nov. 28, the facility will provide service for the new 837 Express Bus route which will run from the station to Downtown Miami via the SR 836/Dolphin Expressway.
The station is located at 14710 SW 8th Street, Miami FL 33184.
The 837 Express buses will travel on the designated bus-only lanes to by-pass traffic congestion on the Dolphin Expressway during peak service hours Monday through Friday, providing a more efficient, low-stress alternative to driving and improving mobility and convenience.
The Tamiami Station Park and Ride/Bus Terminal project is a segment of Phase 1 of the East-West Corridor, one of the rapid transit corridors of the Strategic Miami Area Rapid Transit (SMART) Program. 
Once fully functional, the Tamiami Station will offer many amenities including:
Free Wi-Fi
Ticket Vending Machines (TVMs)
Seven bus bays
Bus layover areas
Bus driver lounge
458 parking spaces
Short-term parking
Electric vehicle charging stations
Parking for vehicles with a baby stroller or ADA permit
Carpool/vanpool, motorcycle/scooter, and secured bicycle storage
CCTV security system including 50 cameras
Digital screens with bus route information (available in the first quarter of 2023)
The Station won the Envision® Silver Award from the Institute for Sustainable Infrastructure (ISI), marking the first time Miami-Dade County is honored by the ISI for the County's work in sustainable performance and resiliency of infrastructure.
Originally published at https://www.miamidade.gov/global/news-item.page?Mduid_news=news1668612826342876