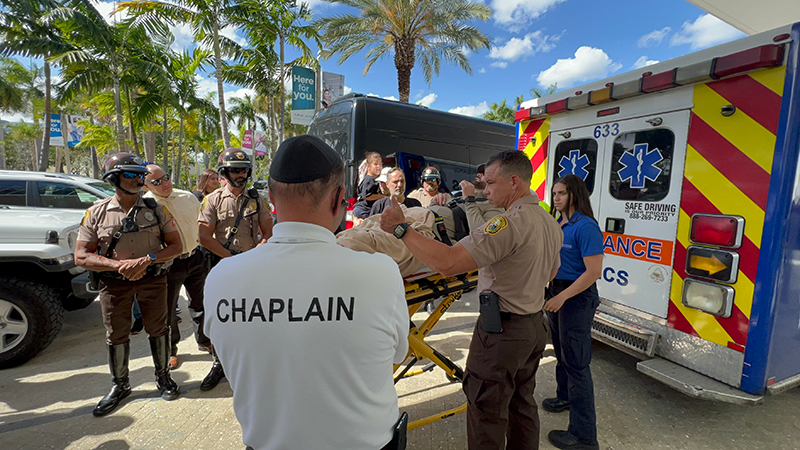 Officer Damian Colon was discharged on April 19, 2023, from the Shepard Center in Atlanta, Ga., where he underwent recovery for several months after being shot in the head by a stalker in November 2022. The facility is one of the best in the country for such injuries. He has a long road ahead of him and is now focused on his rehabilitation.
After he was discharged, he was put on a flight that brought him back home to Miami and was then driven to the place where his rehabilitation will be ongoing, the Christine E. Lynn Rehabilitation Center inside Jackson Memorial Hospital. Due to the severity of his injury, Officer Colon has not regained the ability to walk yet, but it is the hope of the staff at the facility, as well as his family and friends, that the 17-year veteran from Hialeah will continue to make progress.
The homecoming was attended by his family, friends and many members of his extended family at the Miami-Dade Police Department (MDPD). His family wore black t-shirts with the phrase "HIS FIGHT IS MY FIGHT" on the front and an illustration of a brain on the back with the phrase "#DAMIANSTRONG." Officer Colon, wearing a baseball-style MDPD cap and sunglasses, was taken inside the rehabilitation center by stretcher. He thanked his supporters on the way in. Director Ramirez was by his side and later spoke with the media in front of the center.
"We thought we were going to lose him, and now you see him talking, and such tremendous progress," Director Alfredo "Freddy" Ramirez III said. "I ask that the community keeps praying for him. He's got a big heart, a good work ethic, and, like I told him, a lot more work to do, and he's ready."
As a member of the Department's Crime Suppression Team years ago, Officer Colon responded to domestic violence cases and was instrumental in protecting citizens from harm. He was headed to work when the stalker, an ex-girlfriend who used a tracking device to locate him, shot him, leaving him in critical condition. She fled the scene but was arrested the same night and is being held in jail pending trial on a charge of attempted murder. Officer Colon was rushed to the Ryder Trauma Center, where he underwent surgery to save his life.
Director Ramirez offered advice to domestic abuse victims. "Domestic violence affects everyone, you could be a police officer, you could be a doctor, a government official, it knows no boundaries, and this is what happens, that's why if you're going through that, if you know someone who is going through that, you need to report it."
If you're the victim of domestic violence, call the Department's Special Victims Bureau's Domestic Crimes Investigations Unit at 305-418-7200. You may also ask the State Attorney to press charges by calling 305-547-0150.
Originally published at https://www.miamidade.gov/global/news-item.page?Mduid_news=news168282794871636