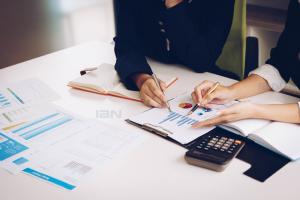 AP/AR Management Solutions by IBN Technologies Enhance Efficiency and Vendor Relations in F&B Industry, Streamlining Financial Operations
The challenges faced by the Food and Beverage industry are not just operational hurdles; they have a profound impact on the overall financial health of businesses"
— Ajay Mehta, CEO and Founder, IBN Technologies
MIAMI, FL, UNITED STATES, September 5, 2023/EINPresswire.com/ — In the fast-paced Food and Beverage (F&B) industry, efficient financial management, particularly in Accounts Payable and Receivable is increasingly crucial. Amidst the challenges of vendor relationships, cash flow management, and regulatory compliance, F&B businesses face a pressing need for optimized processes. IBN Technologies, a trusted leader in outsourcing solutions, is here to address these challenges head-on, offering tailored AP/AR management services designed to streamline financial operations for F&B businesses.
The F&B industry's complexity is epitomized by the meticulous verification and precision required for invoice management. The multitude of suppliers, each with diverse products and pricing structures, presents a challenge to ensure accurate invoicing that aligns with delivered goods and services. These disparities can trigger food and beverage payment delays, operational disruptions, and strained supplier relationships.
Additionally, the industry's diverse vendor landscape, characterized by varying payment terms, introduces another layer of intricacy. The arduous task of monitoring individual vendor payment schedules, terms, and preferred methods necessitates meticulous attention. Manual management of such data can lead to errors, missed payments, and strained vendor relations.
In response to these challenges, IBN Technologies emerges as a strategic partner, bringing over 24 years of expertise. "The challenges faced by the Food and Beverage industry are not just operational hurdles; they have a profound impact on the overall financial health of businesses," says Ajay Mehta, CEO of IBN Technologies. "At IBN Technologies, we recognize that the nuances of AP/AR management can have a ripple effect on diverse aspects of a business, from cash flow to vendor relationships. Our Outsourced AP/AR Management solution strategically responds to these challenges."
With its extensive industry experience, IBN Technologies specializes in providing tailored outsourcing solutions uniquely designed for the specific needs of Food and beverages businesses, including expert bookkeeping services. By partnering with IBN Technologies, enterprises can access a dedicated team of experts who excel in invoice validation, guaranteeing accuracy and timely payments for all financial transactions."
Moreover, IBN Technologies facilitates the integration of AP/AR Automation solutions through strategic third-party providers. This automation minimizes manual errors and liberates internal resources, enabling F&B businesses to focus on core operations, while easily and quickly tracking expenditures, optimizing expense management, and achieving clear cash visibility and forecasting. Streamlined finance management leads to on-time and precise payments to vendors and customers, fostering smoother cash flow management. This, in turn, enables enterprises to seize growth opportunities, invest in innovation, and maintain financial stability.
Ajay Mehta emphasizes, "Our custom solutions empower F&B businesses to thrive amidst industry challenges. Outsourcing AP/AR management to IBN Technologies equips enterprises with the tools to navigate financial complexities confidently, enhance operational efficiency, and foster lasting success."
Incorporating a suite of key features, including streamlined expense management, real-time expenditure tracking, and clear cash visibility, IBN Technologies stands as a reliable partner for F&B businesses aiming to maximize efficiency and transparency in their AP/AR processes.
Source URL – https://www.ibntech.com/pressrelease/outsourced-ap-ar-management-for-food-and-beverage-businesses/
About IBN Technologies
IBN Technologies LLC is an outsourcing specialist company with clients in the United States, the United Kingdom, the Middle East, and India. The quality of IBN Tech procedures is guaranteed by ISO 9001:2015, 27001:2022 as well as a CMMI-5 certification. In its more than 24 years of existence, IBN has become a leading IT, KPO, and BPO outsourcing specialized company in the Finance & Accounting, CPAs, Hedge Fund & Other Alternative Investment business, Banking, Travel, Human Resource & Retail Industry sectors.
Contact Details:
Pradip Gore
[email protected]
+1 – 844 – 644 – 8440
USA:
IBN Technologies LLC
66 West Flagler Street Suite 900 Miami, FL 33130
India: Global Delivery Center
IBN Technologies Limited
42, Electronic Co-Operative
Estate Limited Satara Road,
Parvati, Pune, Maharashtra 411009
Pradip G
IBN Technologies LLC
+1 8446448440
[email protected]
Visit us on social media:
Facebook
Twitter
LinkedIn
Instagram
YouTube


Originally published at https://www.einpresswire.com/article/653881185/outsourced-ap-ar-management-optimize-vendor-payments-and-enhances-financial-operations-for-food-and-beverage-businesses
Images courtesy of https://pixabay.com