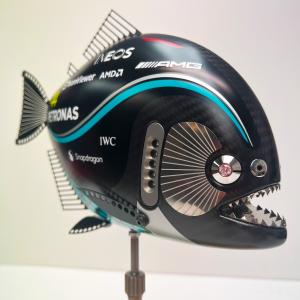 The Mercedes-AMG PETRONAS F1 Team will exhibit artworks by Alastair Gibson, Formula One chief mechanic turned carbon fibre artist, at the Las Vegas Grand Prix.
LONDON, UNITED KINGDOM, November 2, 2023 /EINPresswire.com/ — The Mercedes-AMG PETRONAS F1 Team will host an exhibition of carefully curated artworks by Alastair Gibson, Formula One chief mechanic turned carbon fibre artist, as part of its exclusive trackside Vegas Club hospitality during the Las Vegas Grand Prix in November 2023.
Gibson's compelling sculptures, depicting iconic species in the natural world and the intricacies of the human form, are composed from carbon fibre embellished with genuine parts from F1 cars. Gibson spent over two decades at the pulsing centre of motorsport racing before applying his talent for ingenuity to art.
The achromatic quality of his chosen medium offers Gibson the chance to deftly interrogate the impact of colour and texture through his work. The contrasts produce a stimulating aesthetic that evokes the electric charge and excitement of the forthcoming night race, one of only four events under cover of darkness in the 2023 Formula One World Championship, along the Vegas Strip.
The installation in Mercedes' three-floor, meticulously presented Vegas Club will include the Mercedes Racing Piranha, based on the livery of the 2023 Mercedes AMG Petronas Grand Prix car and a development of Gibson's original Racing Piranha sculpture commissioned by Rubens Barrichello in 2007. The piece captures the open-jawed aggression of the red-bellied piranha.
In direct juxtaposition with the distinctive river fish, Gibson's Gold Carbon Dory explores the anatomy of an ancient oceanic creature with its characteristic dorsal fin, binocular eyes and hefty mouth. Both limited-edition sculptures are desk mounted on a front suspension torsion bar atop a FIA legality perma-glass underfloor plank base.
Gibson has spent over a decade pushing not only at the creative boundaries of his medium but considering how it can allow us to better understand ourselves. Following We Are All Made Of Stars and Carbon King, human and lion skulls respectively comprised of bespoke solid carbon fibre made using horizontally laminated woven sheets, Gibson will present the arresting God Save The African Queen.
The starkly beautiful sculpture, which pays homage to the Ndebele, Xhosa and Lesotho nations, draws our attention to the geographic cradle of humanity and our very existence as carbon-based life forms. With six sets of interchangeable earrings all made from parts that form a vital function in a Grand Prix race car, the piece is interactive, iterative and ingenious and demands the attention of the viewer.
Finally, Mercedes' Vegas Club will host a display of three carbon fibre, ABS and titanium hearts rendered in red, purple and gold to symbolise creativity, courage and kindness. They form an integral part of Gibson's most exciting and challenging project to date, a bold reimagining of one of the most recognisable sculptures in art history, Michaelangelo's David, and are evidence of a telling departure from simple replica.
The 3.7m high, solid carbon fibre Carbon David will be unveiled by Gibson at a private event in the UK on 3 November 2023 to an audience of discerning collectors, collaborators, art appreciators and makers. The radical reinterpretation of the renaissance masterpiece can be presented in gender non-binary, female and male form with further interchangeable features. The pivotal piece has been three years in the planning and execution with extraordinary results.
The decision by the Mercedes-AMG PETRONAS F1 Team to celebrate the work of Alastair Gibson, now in his 16th year as a full-time artist, and by doing so to place emphasis on the synergies in inspiration, innovation, achievement and ambition in motorsport and art, comes as the entertainment capital of the world is experiencing a cultural revolution.
The allure of Las Vegas is undeniable but it's reputation as a seat of ostentatious glamour is shifting thanks to its exploding art scene centred around the Arts District. The surge in public art including Ugo Rondinone's desert installation Seven Magic Mountains and the impact of events such as the annual Life Is Beautiful festival are all contributing to a new and diverse identity for 'Sin City'.
'The Las Vegas Grand Prix promises to be totally different to any other race held in the 2023 season,' says Alastair Gibson. 'My work aims to align itself with this unique event and I'm delighted to have been given the opportunity by the Mercedes-AMG PETRONAS F1 Team to show what is possible within my chosen medium of carbon fibre.'
More information:

www.alastairgibson.com

@alastairgibsonofficial

www.myarto.co.uk

@artostow

[email protected]
Emma Bovill
ArtÓ
+44 1451 828788
email us here
Visit us on social media:
Facebook
Twitter
Instagram


Originally published at https://www.einpresswire.com/article/665632561/pioneering-carbon-fibre-artist-alastair-gibson-to-exhibit-at-las-vegas-grand-prix