RecruiterNetworks.com the SMART solution for local jobs since 2001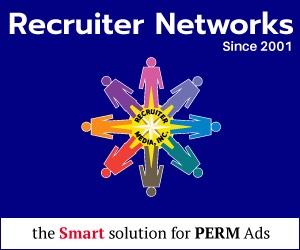 RecruiterNetworks.com the SMART solution for local jobs since 2001
Hiring costs too high? Now Franchises, Chains and Multi-location businesses have an affordable option, monthly Unlimited hiring in over 1,000 cities since 2001.
Are your hiring costs too high? Now Franchises, Chains and Multi-location businesses have an affordable and proven option, monthly Unlimited hiring in over 1,000 cities since 2001."
— Richard B. Alman
MIAMI , FLORIDA, UNITED STATES, September 5, 2023/EINPresswire.com/ — RecruiterNetworks.com was determined to even the playing field in the highly competitive recruiting process. In one of tightest labor markets in decades, large and small companies are desperately competing for a small pool of applicants. Local businesses, franchises and family run companies typically don't have the budget needed to compete with larger companies for expensive recruitment advertising normally used to attract the best candidates.
Initial launch of the program will take place at The Franchise Expo South, Booth 646, September 8-9, Ft. Lauderdale, Florida. It is expected to be attended by over 200 leading Franchisors with 5,000 attendees reviewing the world's best franchise opportunities.
With the launch of this program, www.RecruiterNetworks.com is offering an affordable monthly recruiting package which will cost any size company about $12/day for unlimited recruiting ads in their particular city of choice on the RecruiterNetworks.com platform. Now any size firm can benefit from significant savings with their job postings published on the RecruiterNetworks.com exclusive digital national publication network of over 1,000 leading cities in the USA.
RecruiterNetworks.com has launched the first national digital publication with a cost saving package geared especially to allow small companies to advertise for a flat fee of $350/month with no annual subscription and no contracts for an unlimited amount of 30-day job postings in any of the one of the specific cities served. Companies of any size now have a one-of-a-kind resource which will enable them to post jobs in over 1,000 top USA cities with their exceptionally well priced package to allow hiring to be affordable again.
The RecruiterNetworks.com platform offers franchises, chains and multi-location businesses the exclusive ability to post unlimited job openings for their various open positions on-line in over 75 different job categories for only $350 monthly fee on any of the 1,000 plus cities served since 2001. RecruiterNetworks.com is built to work in tandem with any employment advertising firms the company's already may be using.
The initial response to the www.RecruiterNetworks.com monthly unlimited package for job postings on their digital platform has been overwhelmingly positive. The company has gained a tremendous number of new clients who are seeking better economics and ease of use. RecruiterNetworks.com has a long history of serving leading firms of all sizes, as well as professional recruiters, and employment ad agencies since 2001.
Information link; https://www.recruiternetworks.com/franchises/
See all cities they serve listed by state

https://www.recruiternetworks.com/cities.php
See their client list

https://www.recruiternetworks.com/clients.php?
For additional information, please contact:

[email protected]

Phone: 305.440.1266

Contact

RecruiterNetworks.com

Richard B. Alman

305-793-9225

www.RecruiterNetworks.com

Richard Alman

RecruiterNetworks.com

+1 305-793-9225

[email protected]
Richard B. Alman
RecruiterNetworks.com, Recruiter Media Corporation
+1 305-793-9225
email us here
Originally published at https://www.einpresswire.com/article/653887449/recruiternetworks-com-introduces-affordable-unlimited-recruiting-platform-for-franchises-chains-multi-location-biz
Images courtesy of https://pixabay.com