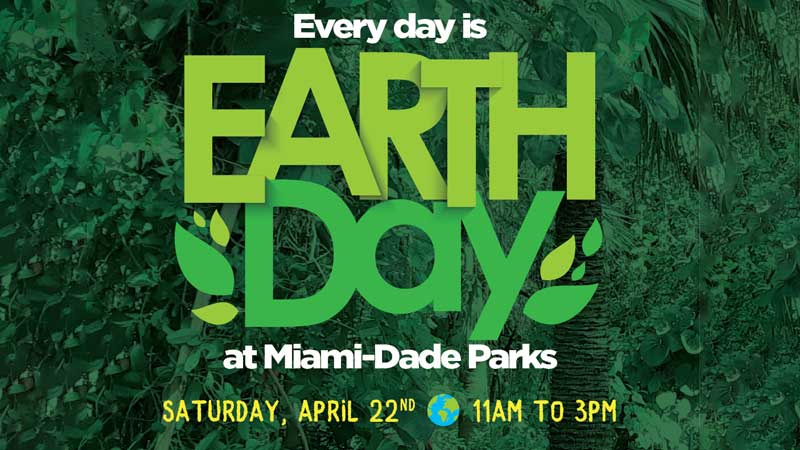 Miami-Dade County Parks, Recreation and Open Spaces is hosting an Earth Day celebration on, Saturday, April 22, from 10 a.m. to 3 p.m., with a press conference and a variety of environmental education and conservation activities that include a volunteer cleanup and invasive species removal, highlighted by release of a biological control agent, orchid and tree giveaways, an Eco Village, and more at Kendall Indian Hammocks Park (11395 SW 79th St, Miami, FL 33173).  
At 10 a.m. the Earth Day event kicks off with a press conference featuring
Miami-Dade County Parks Director Maria I. Nardi and other county officials
Event title sponsor United Way Miami's CEO Symeria Hudson
USDA ecologist Dr. Allen Dray
TERRA Environmental Research Institute Principal Jose Sirven
High school students, teachers and staff from Miami-Dade magnet high school TERRA Environmental Research Institute, which partners closely with Miami-Dade Parks and whose students work side-by-side with parks teams on invasive plant research and volunteer projects year-round at Kendall Indian Hammocks
Military veteran organization The Mission Continues
A highlight of the event will be the release in the park's natural areas of the USDA's biological control agent for the invasive air potato vine – "Lilioceris egena (Weise) beetles," a project of Miami-Dade Parks in collaboration with USDA researchers, and a pivotal development in the county's efforts to help control the regrowth of the invasive vines.
At 11 a.m., community volunteers representing title sponsor United Way Miami, The Mission Continues, and others, will gather for the cleanup at the park's west trail entrance to the nature preserve, where they will be shown how to effectively remove invasive air potato vines and other harmful plants. In addition, native species of trees, shrubs, and pollinator plants will be planted. This clean-up project is being supported by One Tree Planted.
Native trees, orchids, and other Earth Day giveaways will be distributed to guests, while supplies last.
Beverage sponsor Bang Energy will be passing out complimentary energy drink and hydration beverages in recyclable containers.
Throughout the day, guests will also have an opportunity participate in disc golf and soccer clinics, purchase food and beverages from food truck vendors, and  visit the Eco Village, where they can browse nature-based exhibits.
Coca Cola volunteers will paint rain barrels and donate the finished barrels to the Parks Department.  
Get directions and learn more about the Earth Day Celebration
Originally published at https://www.miamidade.gov/global/news-item.page?Mduid_news=news1681747401228587