SugarBee Logo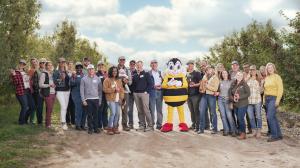 SugarBee® growers and marketers, social media influencers, and agriculture industry experts gather together to celebrate the 2023 SugarBee® apple harvest
Cass Gebbers, CEO Gebbers Farms + SugarBee® Grower; Chuck Nystrom, SugarBee® Breeder; and Reggie Collins, SugarBee® Propagating Lead in WA State.
Perfect Pick Event Garners Rave Reviews
CHELAN, WA, UNITED STATES, October 12, 2023 /EINPresswire.com/ — SugarBee® harvest has arrived, and to the delight of fans around the world, earlier this year than expected! An early cold snap pushed the much-anticipated fall harvest up by about a week and a half, which means that SugarBee® apples are arriving in stores across the US sooner than ever.
To celebrate the harvest, SugarBee® growers created an event to mark the occasion and provide an opportunity for people to learn more about the way that SugarBee® apples are grown, cared for, harvested, packed and shipped. The SugarBee® Perfect Pick event this week meant some very special folks from around the US got to travel here to sunny Central Washington to experience firsthand the delight of apple harvest.
Perfect fall weather and row upon row of apple trees laden with crisp, juicy SugarBee® apples greeted guests as they arrived in the orchards early Wednesday morning. Everyone got to pick a few apples to snack on as 5th generation grower and orchard owner Hawkins Gebbers led the group on a tour, joined by Chuck Nystrom (SugarBee® breeder), Reggie Collins (SugarBee® propagator) and Cass Gebbers (4th generation grower). Lunch was enjoyed afterwards at nearby Gamble Sands golf course, followed by afternoon facility tour at a packing and storage location, then an incredible harvest dinner and wine tasting at Sorrento's in Chelan, located on the famous Tsillan Cellars vineyard grounds.
Guests included some up and coming names in the apple world, including honeybee rescue couple Mr. and Mrs. Bee Rescue (Jeff and Julie Russell); Gina Calhoun, Scripps Spelling Bee National Teacher of the Year 2023; Lasheeda Perry, celebrated pastry chef and owner of Queen of Flavor; and Tracy Shaw from The Healthy Family Project, as well as influencers Annessa Chumbley, Shakira Patterson, Kait Thornton and Ashley Rowe.
For everyone ready to taste the fresh fall crop for themselves, SugarBee® apples will be available in store locations across the US soon! The Fruit Locator can be used to find nearby stores that SugarBee® apples have been shipped to recently. Direct online ordering is also available at our partner store, Goldbelly.
About SugarBee® Apple:

The SugarBee® Apple is head of the class when it comes to eating and snacking apples. Its crisp crunch, caramel-and-honey toned sweetness and excellent storage make it among the most highly sought-after varieties for retailers nationwide. Nearly 200 growers in Washington State work hard to bring this stunning apple to eager consumers across the country. For more information, visit www.sugarbeeapple.com or email [email protected].
Julie DeJarnatt
Chelan Fresh
email us here
Visit us on social media:
Facebook
Instagram
TikTok


Originally published at https://www.einpresswire.com/article/661401762/sugarbee-fall-harvest-celebration