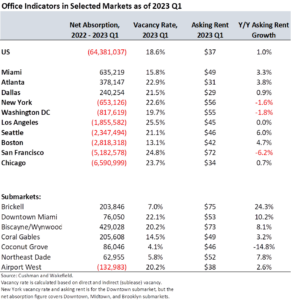 By Gay Cororaton, Chief Economist
Amid the economic headwinds of higher interest rates and tighter financial conditions, Miami-Dade County saw an increase in office occupancy in 2022 and through the first quarter of 2023 as the area continues to experience robust job gains, in-migration, and a post-pandemic recovery in domestic and international tourism. Miami-Dade's office market is outperforming the nation and major gateway markets with an increase in office occupancy, lower vacancy rate, and stronger rent growth.
During 2022 and the first quarter of 2023, Miami-Dade County absorbed 0.63 million square feet (MSF) of office space.[1]  Miami-Dade's absorption outpaced Atlanta (0.37 MSF) and Dallas (0.24 MSF) and other major gateway markets all lost office space such as Chicago (-6.5 MSF), San Francisco (-5.1 MSF), Boston (-2.8  MSF), Seattle (-2.3 MSF), Los Angeles (-1.8 MSF), Washington DC (-0.81 MSF), and New York (-0.65 MSF). Nationally, office occupancy shrank by 64 million square feet during this same period.
Miami-Dade County's major submarkets all experienced positive net absorption during 2022 and during the first quarter of 2023: Biscayne/Wynwood/Design District (429,000 SF), Coral Gables (206,000 SF), Brickell (204,000 SF), Coconut Grove (86,000 SF), and Downtown Miami (76,000 SF).  Only the Airport submarket saw a net decline in occupancy during 2022 and the first quarter of 2023 (-133,000 SF) as Ryder System leased back 238,000 SF of office space in the Miami Airport area.
With net positive absorption, Miami-Dade's vacancy rate as of 2023 Q1 was 15.8% compared to 18.6% nationally. Other major markets are grappling with vacancy rates of over 20% such as in the Los Angeles Central Business District (25.5%), San Francisco (24.8%), New York Downtown (22.6%), and Chicago (23.7%). New York and San Francisco have high overall vacancy rates due to the large amount of space that is indirectly vacant and being subleased, amounting to about 7% of office inventory in part due to a larger fraction of their workforce working from home.  In the San Jose-San Francisco-Oakland combined statistical area (CSA) and in Washington-Baltimore-Arlington CSA, 29% of workers 16 years old and over worked from home in 2021 compared to 16% of the workforce in Miami-Port St. Lucie-Ft. Lauderdale CSA,  at 16%.
With a lower vacancy rate, Miami-Dade's average office asking rent was up 3.3% as of 2023 Q1 on a year-over-year basis. Nationally, office asking rents were up 1% . Asking rents were down year-over-year in the New York Downtown submarket (-1.6%), Washington DC (-1.8%), and in San Francisco (-6.2%).
Miami-Dade's Dynamic Economy is Attracting Global Tech, Finance, and Law Firms
Miami-Dade County has seen relocations and expansions of big-name tech, finance, and law firms, lured by the area's  strong economy, sustained migration from out-of-state, and its low corporate tax rate. here are some facts that reflect the strength and resilience of Miami-Dade County since the COVID pandemic:
Miami-Dade County is the 7th largest US county, with an estimated population of 2,701,762 in 2022. In 2021, Miami-Dade's population surpassed Kings County, New York. Its population is higher than Dallas County, Texas (2,611,491) and Kings County New York (2,736,075), according to the US Census Bureau's Population Estimates as of July 2022.
Miami-Dade County is experiencing a surge in people moving from other states based on driver license information, with people from New York, New Jersey, and California comprising the largest group, according to the Florida Highway Safety and Motor Vehicles data provided to MIAMI REALTORS®. Miami-Dade County driver license exchanges were up 31.6% in the first quarter of 2023 Q1 compared to the average in 2016 Q1 – 2019 Q4 (5,542 from 4,212). The number of California to Miami-Dade County license exchanges rose  80% (691 from 383), New York to Miami is up 68% ( 1,242 from 742), and New Jersey to Miami is up 29% (440 from 340).
Domestic tourism has surged after the pandemic. Among the 30 major international airports, the Miami International Airport had the largest increase in domestic passenger arrivals in 2022 compared to pre-pandemic 2019 figures. In 2022, there were 14.1 million domestic passenger arrivals, a 31% increase from 10.8 million in 2019, according to the Bureau of Transportation Statistics.  Other major airports still have not recovered  to the level in 2019 such as New York JFK (-0.4%), New York La Guardia (-3.4%), Chicago O'Hare (-18.9%), San Francisco International (-23.4%), and Los Angeles International (-19.7%), while the recovery at the Washington DC Reagan Airport has just started (0.1%).
Miami-Dade County's unemployment rate of 1.7% is lower than that of Florida (2.6%) and the nation (3.6%), as of February 2023, according to the Bureau of Labor Statistics.
Miami-Dade County is becoming a tech and finance hub, attracting big name corporations that have relocated, set up offices, or expanded in the area. Below are notable new lease signings since 2020:
Long-term Office Outlook is Positive
Miami-Dade's long-term office real estate outlook remains bright , with absorption of office space likely to increase especially in 2024 when interest rates stabilize with inflation likely under control at 2% given the current inflation path and monetary policy. Miami-Dade County's favorable business and tax environment is expected to continue attracting people, businesses, and visitors into the county, driving up the demand for office space, as well as multifamily, industrial, retail, and hotel real estate.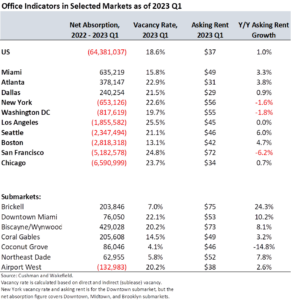 [1] Cushman and Wakefield Office Market Beat Report, 2023 Q1. Cushman and Wakefield monitors 90 markets. Methodology Cushman & Wakefield's quarterly estimates are derived from a variety of data sources, including its own proprietary database, and historical data from third party data sources.
[2] Carl Icahn leaves NYC, relocates business to Florida | Fox Business
[3] Blackstone Group signs lease for Miami office with plans to hire 200 employees – South Florida Business Journal (bizjournals.com)
[4] Silicon Valley's Founder's Fund signs lease for Brickell office – South Florida Business Journal (bizjournals.com)
[5] Thoma Bravo Signs Lease for Its Miami Expansion | GlobeSt
[6] Microsoft Signs 50K SF Lease at Miami's 830 Brickell – Commercial Observer
[7] Hedge fund Citadel to move headquarters to Miami from Chicago | Reuters
[8] Kirkland & Ellis Enters Miami, Adding to Hot Big Law Market (bloomberglaw.com)
[9] Sidley Announces Office in Miami | News | Sidley Austin LLP
[10] Winston & Strawn Launches Miami Office With Partners From Five Prominent Law Firms (prnewswire.com)
[11] Goldman Sachs expands South Florida office – South Florida Business Journal (bizjournals.com)
[12] Santander Bank Expands Footprint with the Opening of a New Branch in Miami
[13] Kaseya to expand Miami headquarters, hire 3,400 employees – South Florida Business Journal (bizjournals.com)
Originally published at https://www.miamirealtors.com/2023/05/01/office-occupancy-increases-in-miami-dade-in-the-first-quarter-2023-amid-economic-headwinds/