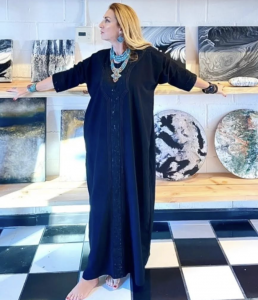 LOS ANGELES, UNITED STATES, November 2, 2023 /EINPresswire.com/ — Patrizia Martiradonna, an internationally acclaimed artist and the Founder of Patrizia Martiradonna Fine Art, is thrilled to announce the upcoming Open Artist Studio event for November 5th, 2023. The event will take place at 4059 Lincoln Blvd, Marina del Rey, CA 90292, from 5 p.m. until 8 p.m. (PST) and promises to be a unique opportunity to not only showcase Martiradonna's exceptional artwork but also to unite the community through the power of art.
In a world of uncertainty, Martiradonna firmly believes that art is a universal language, serving as a refuge for people during difficult times. She expresses, "Art is a universal language, and in tumultuous times such as these, it is important to provide an escape for people, and art accomplishes just that." As local art studios face closures in America, Italy, and around the globe, Martiradonna is dedicated to keeping the flame of art alive through her Open Artist Studio events. Her art has the remarkable ability to bring people together, instilling a profound sense of belonging.
"We must ensure that art is present in our lives; art rebalances us. It is a way of travel without leaving the house. We must reunite as human beings. Art speaks a global language. It speaks directly to your inner self," explains Martiradonna.
The Open Artist Studio is a recurrent event, occurring three to four times a year. Martiradonna views art as a form of therapy, and her studio is a sanctuary for individuals seeking solace and inspiration.
Martiradonna is an Italian artist who has found her creative home in the vibrant artistic landscape of California. In 1992, she embarked on a transformative journey, relocating to Los Angeles, where her artistic odyssey truly began. Martiradonna's educational path led her to the study of fine arts in college, laying the foundation for her artistic career.
Her artistic prowess has not gone unnoticed. Her work has been sought after by production designers for notable Hollywood film productions, and art enthusiasts widely collect her pieces. Today, Martiradonna operates from her studio in Marina del Rey, California, where she also imparts her wisdom through "let the paint flow" art workshops. She holds several certifications, including that of a positive art coach and a certified therapeutic art coach, underlining her commitment to the healing and transformative power of art.
Martiradonna's artistic journey often takes her back to Italy, where she maintains an art studio in a charming medieval village outside of Rome. Her creative spirit transcends borders, and her work continues to inspire and captivate audiences on both sides of the Atlantic.
For more information about Patrizia Martiradonna and the Open Artist Studio, click here: www.patriziamartiradonna.com
Amanda Kent
Boundless Media USA
+1 517-377-6624
email us here
Originally published at https://www.einpresswire.com/article/665717505/patrizia-martiradonna-founder-of-patrizia-martiradonna-fine-art-studio-to-host-an-open-artist-studio-november-5-2023